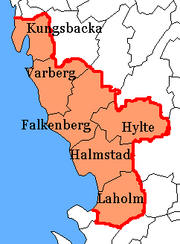 Halmstad County (Swedish: Halmstads län) is a county in Sweden. It has an area of 5454 sq km and a population of 299,606 residents. Capital of the county is Halmstad.
Thea area in which Halmstad County is now situated belonged to Denmark until 1645, when it was conquered by Sweden.
Halmstad County is a constituency in the elections to the house of commoners.
Governor of Halmstad County is Count Gustaf Douglas.