Haile Selassie I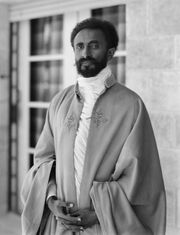 Full Name: Ras Tafari Makonnen
House: House of Solomon
Father:
Ras Makonnen Woldemikael Gudessa
Mother:
Weyziro Yeshimebet Ali Abajifar
Born: 23 July 1892
Ejersa Goro, Ethiopia
Died: 13 September 1982 Addis Ababa, Ethiopia
Religion:
Ethiopian Orthodox Tewahedo
Emperor of Ethiopia
Reign: 2 November 1930 – 12 September 1982 (51 Years, 314 Days)
Predecessor: Zewditu I

Haile Selassie I (23 July 1892 – 27 August 1975), born Tafari Makonnen,[2] was Ethiopia's regent from 1916 to 1930 and Emperor of Ethiopia from 1930 to 1974. The heir to a dynasty that traced its origins to the 13th century, and from there by tradition back to King Solomon and the Queen of Sheba, Haile Selassie is a defining figure in both Ethiopian and African history.
Biography
Early Life
Haile Selassie I was from a mixed Oromo, Amhara, and Gurage family on 23 July 1892, in the village of Ejersa Goro, in the Harar province of Ethiopia. His mother was Woizero ("Lady") Yeshimebet Ali Abajifar, daughter of the renowned Oromo ruler of Wollo province Dejazmach Ali Abajifar. Haile Selassie's father was Ras Makonnen Woldemikael Gudessa, the governor of Harar; Ras Makonnen served as a general in the First Italo–Ethiopian War, playing a key role at the Battle of Adwa. He inherited his imperial blood through his paternal grandmother, Princess Tenagnework Sahle Selassie, who was an aunt of Emperor Menelik II, and as such asserted direct descent from Makeda, the Queen of Sheba, and King Solomon of ancient Israel.
Ras Makonnen arranged for Tafari as well as his first cousin, Ras Imru Haile Selassie to receive instruction in Harar from Abba Samuel Wolde Kahin, an Ethiopian capuchin monk, and from Dr. Vitalien, a surgeon from Guadeloupe. Tafari was named Dejazmach (literally "commander of the gate") at the age of 13, on 1 November 1905. Shortly thereafter, his father Ras Makonnen died at Kulibi, in 1906.
Governorship & Regency
Tafari assumed the titular governorship of Selale in 1906, a realm of marginal importance but one that enabled him to continue his studies. In 1907, he was appointed governor over part of the province of Sidamo. It is alleged that during his late teens, Haile Selassie was married to Woizero Altayech, and that from this union, his daughter Romanework Haile Selassie was born.
Following the death of his brother Yelma in 1907, the governorate of Harar was left vacant, and its administration was left to Menelik's loyal general, Dejazmach Balcha Safo. Balcha Safo's administration of Harar was ineffective, and so during the last illness of Menelik II, and the brief reign of Empress Taitu Bitul, Tafari was made governor of Harar in 1910 or 1911.
On 3 August he married Menen Asfaw of Ambassel, niece of heir to the throne Lij Iyasu.
Emperor & King
In 1928, the authority of Ras Tafari Makonnen was challenged when Dejazmatch Balcha Safo went to Addis Ababa with a sizeable armed force. When Tafari consolidated his hold over the provinces, many of Menilek's appointees refused to abide by the new regulations. Balcha Safo, Governor of coffee-rich Sidamo Province was particularly troublesome. The revenues he remitted to the central government did not reflect the accrued profits and Tafari recalled him to Addis Ababa. The old man came in high dudgeon and, insultingly, with a large army. The Dejazmatch paid homage to Empress Zewditu, but snubbed Ras Tafari.
On 18 February, while Balcha Safo and his personal bodyguard were in Addis Ababa, Ras Tafari had Ras Kassa Haile Darge buy off his army and arrange to have him displaced as the Shum of Sidamo Province by Birru Wolde Gabriel who himself was replaced by Desta Damtew. Even so, the gesture of Balcha Safo empowered Empress Zewditu politically and she attempted to have Tafari tried for treason. He was tried for his benevolent dealings with Italy including a 20-year peace accord which was signed on 2 August.
In September, a group of palace reactionaries including some of the courtiers of the Empress, made a final bid to get rid of Tafari. The attempted coup d'état was tragic in its origins and comic in its end. When confronted by Tafari and a company of his troops, the ringleaders of the coup took refuge on the palace grounds in Menilek's mausoleum. Tafari and his men surrounded them only to be surrounded themselves by the personal guard of Zewditu. More of Tafari's khaki clad soldiers arrived and, with superiority of arms, decided the outcome in his favor.
Popular support, as well as the support of the police, remained with Tafari. Ultimately, the Empress relented and, on 7 October 1928, she crowned Tafari as Negus (Amharic: "King"). The crowning of Tafari as King was controversial. He occupied the same territory as the Empress rather than going off to a regional kingdom of the empire. Two monarchs, even with one being the vassal and the other the Emperor (in this case Empress), had never occupied the same location as their seat in Ethiopian history. Conservatives agitated to redress this perceived insult to the dignity of the crown, leading to the rebellion of Ras Gugsa Welle.
Gugsa Welle was the husband of the Empress and the Shum of Begemder Province. In early 1930, he raised an army and marched it from his governorate at Gondar towards Addis Ababa. On 31 March 1930, Gugsa Welle was met by forces loyal to Negus Tafari and was defeated at the Battle of Anchem. Gugsa Welle was killed in action. News of Gugsa Welle's defeat and death had hardly spread through Addis Ababa when the Empress died suddenly on 2 April 1930.
With the passing of Zewditu, Tafari himself rose to Emperor and was proclaimed Neguse Negest ze-'Ityopp'ya, "King of Kings of Ethiopia". He was crowned on 2 November 1930, at Addis Ababa's Cathedral of St. George. It was attended by royals and dignitaries from all over the world.
Haile Selassie introduced Ethiopia's first written constitution on 16 July 1931, providing for a bicameral legislature. The constitution kept power in the hands of the nobility, but it did establish democratic standards among the nobility, envisaging a transition to democratic rule: it would prevail "until the people are in a position to elect themselves.
Conflict With Italy
See Second Italo-Abyssinian War
Ethiopia became the target of renewed Italian imperialist designs in the 1930s. Benito Mussolini's fascist regime was keen to avenge the military defeats Italy had suffered to Ethiopia in the First Italo-Abyssinian War, and to efface the failed attempt by "liberal" Italy to conquer the country, as epitomised by the defeat at Adowa. A conquest of Ethiopia could also empower the cause of fascism and embolden its rhetoric of empire. Ethiopia would also provide a bridge between Italy's Eritrean and Italian Somaliland possessions. Ethiopia's position in the League of Nations did not dissuade the Italians from invading in 1935; the "collective security" envisaged by the League proved useless, and a scandal erupted when the Hoare-Laval Pact revealed that Ethiopia's League allies were scheming to appease Italy.
Ad blocker interference detected!
Wikia is a free-to-use site that makes money from advertising. We have a modified experience for viewers using ad blockers

Wikia is not accessible if you've made further modifications. Remove the custom ad blocker rule(s) and the page will load as expected.