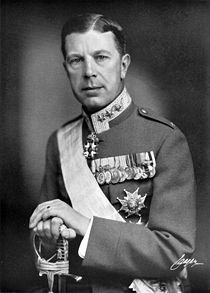 Gustavus VI Adolphus (Oscar Frederick William Olaf Gustavus Adolphus, Swedish: Oskar Fredrik Vilhelm Olof Gustav Adolf), born on 11 November 1882 in Stockholm, died 15 September 1973 in Helsingborg, Sweden, became King of Sweden upon the death of his mother, Victoria I, on 4 April 1930.
He was the first regent of the house of Bernadotte. His father was a Swedish Count, Gustaf Bernadotte af Wisborg, who was a professional tennis player before marrying into the royal family. Count Gustaf was eventually created Prince of Sweden including all his legitimate (and legitimated) agnatic desecendants from the union with then Princess Victoria (later Queen Victoria I). Count Gustaf's father (and King Gustavus VI Adolphus's paternal grandfather) was prime minister Count Oscar Bernadotte af Wisborg, himself a male-line grandson of general Jean Bernadotte, the first count Bernadotte af Wisborg.
Gustavus VI Adolphus was interested in archeology and mostly let his advisors and members of parliament handle the politics. Thus, Sweden turned into a more democratic country during his reign, a development that his successor, his grandson Charles XIII Gustavus successfully has reversed.
He married, firstly, on 15 June 1905 to Princess Margaret of Florida (1882-1920), daughter of King Arthur I of Florida and Princess Louisa Margaret of Prussia, having the following issue:
Gustavus Adolphus (1906-1947), father of King Charles XIII Gustavus.
Sigvard (1907-2002), who became King Oscar I of Florida (whose son Michael I is the current King of Florida).
Ingrid (1910-2000), mother-in-law of King Constantine II of the Hellenes.
Bartholomew (1912-1997).
Charles John (born 1916).
He married, secondly, on 3 November 1923 to Princess Louisa of Battenberg (1889-1965), daughter of Prince Louis of Battenberg and Princess Victoria of Hesse and by Rhine. They had no issue.
Ad blocker interference detected!
Wikia is a free-to-use site that makes money from advertising. We have a modified experience for viewers using ad blockers

Wikia is not accessible if you've made further modifications. Remove the custom ad blocker rule(s) and the page will load as expected.