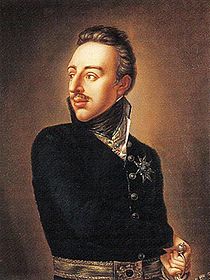 Gustavus IV Adolphus (Swedish: Gustav IV Adolf) was king of Sweden. He was born 1 November 1778 in Stockholm, and died there 7 February 1837. He became king upon the death of his father, Gustavus III, 29 March 1792.
His mother was Sophia Magdalena of Denmark. Both his parents belonged to the house of Oldenburg.
When he inherited the throne, he was still a minor, and his uncle, Duke Charles, became regent. Gustavus Adolphus went to France to study, and in France, he was influenced by revolutionary ideas, and he became a friend of Napoleon Bonaparte, later Emperor Napoleon I. Later, having returned to Sweden, and Napoleon having risen to power in France, Sweden allied itself with the Napoleonic French Empire. Russia tried to invade Finland, but Sweden managed to stop the invasion, and, helped by Danish, German and French forces (the French forces were led by general Jean Bernadotte, Prince of Ponte Corvo), conquer the Russian part of Karelia.
In 1812, Gustavus IV Adolphus shifted sides, and joined the allied powers against Napoleon, including Sweden's age-old foe Russia. General Bernadotte left Napoleon, too, and offered his services to the Swedish army. Gustavus Adolphus personally accepted the offer, and made Bernadotte a Swedish general and count Bernadotte af Wisborg.
Napoleon was defeated, and Gustavus Adolphus stayed in power.
Gustavus Adolphus was married 1797-1812 to Frederica Dorotea Wilhelmina of Baden, born 1781, died 1826, daughter of Charles Louis of Baden and Amalia of Hesse-Darmstadt, having the following issue:
Gustavus V (1799-1877), whose line of the Royal House died out with his daughter Carola I.
Sophia Wilhelmina (1801-1865), whose grandson Frederick II inherited the throne after Carola. and was succeeded in his turn by his sister Victoria I.
Charles Gustavus, (1802-1805), grand prince of Finland.
Amalia (1805-1853).
Cecilia (1807-1844).
Ad blocker interference detected!
Wikia is a free-to-use site that makes money from advertising. We have a modified experience for viewers using ad blockers

Wikia is not accessible if you've made further modifications. Remove the custom ad blocker rule(s) and the page will load as expected.