The Greater Khmer Confederacy (GKC)([1]i/kæmˈboʊdiə/;Khmer: ព្រះរាជាណាចក្រកម្ពុជា, Kampuchea, IPA:), officially known as the Khmer, is a nation located in the southern portion of the Peninsulas in Southeast Asia, India,and Central Asia. With a total landmass of 781,035 sq km (69,898 sq mi), it is bordered by the Chinese Republic to the north, New Guinia to the east, Afghans to the west, and the Gulf of Thailand to the southwest.
It believes in a slogan which has encouraged their Empire for thousands of years. "Unity, Liberty, and Justice", Therefore its political position has broadened and represents many ideologies like some of the liberal oriented ideology since it believes in not big but smaller government can create "Significant changes and results can be obtained through smaller government", helping to create changes and results from all the individuals that make up Cambodian society. The idea of people also having the "freedom of choice" in their lives means they can choose anything like food, healthcare, politics, etc. which is a value of the KLKP's liberal ideology.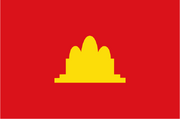 Statistics
Capital: Saigon
Official Languages: Vietnamese, Indian, Arabic, Malay, Mandarin, French
Type of Government: Confederation
First Minister: Heng Samrin
Population: 964,252,000
Currency: Riel
Religion: 55% Buddhist, 31% Hindu, 7% Islamic, 5% Roman Catholic, 1.3% Anglican, .7% Other.
Literacy: 95%
Ad blocker interference detected!
Wikia is a free-to-use site that makes money from advertising. We have a modified experience for viewers using ad blockers

Wikia is not accessible if you've made further modifications. Remove the custom ad blocker rule(s) and the page will load as expected.