Greater East Asia Co-Prosperity Sphere (The Three World Powers)
Talk

0
Share
Ad blocker interference detected!
Wikia is a free-to-use site that makes money from advertising. We have a modified experience for viewers using ad blockers

Wikia is not accessible if you've made further modifications. Remove the custom ad blocker rule(s) and the page will load as expected.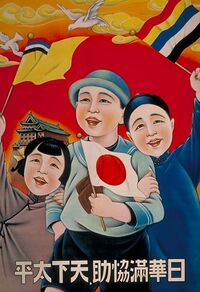 The Greater East Asia Co-Prosperity Sphere (GEACPS) is one of the three major world organizations. It stretches over most of Asia and parts of Oceania. It consists of Japan and her occupied/annexed territories in "peaceful cooperation".
Members
Chairmen
Shigenori Togo (1946-1950)
Mamori Sjigemitsu (1950-1957)
Masayuki Tani (1957-1962)
Shigeru Yoshida (1962-1967)
Nobusuke Kishi (1967-1977)
Masayoshi Ohira (1977-1980)
Takeo Miki (1980-1988)
Kiichi Miyazawa (1988-1993)
Masayoshi Ito (1993-1994)
Sosuke Uno (1994-1998)
Tsutomu Hata (1998)
Hirofume Nakasone (1998-2003)
Katsuya Okada (2003-present)