Great South African War
Part of the Cold War

South African soldiers counterattack on National route 8 heading to Bleomfontien, 1981

Date
4 February 1961 - 21 March 1990
Location

Southern and East Africa

Result
African Peoples Republic victory


Relocation of all white Africans in southern and eastern Africa to the Republic of South Africa
End of colonial and white rule in all of East Africa and most of South Africa

Belligerents
African Anti-Communist Front

Supported by

African Liberation Army

Supported by

Commanders and leaders
* Hendrik Verwoerd
* Nelson Mandela

The Great South African War or (Groot Suid-Afrikaanse Oorlog) in Afrikaans, (Kubwa Afrika Vita African) in Swahili, (Grande Guerra Sul-Africano) in Portuguese and (Gran Guerra de África del Sur) in Spanish. Was a cold war era proxy conflict between Fascist colonial and white powers in Africa against Russian and WDF backed communist rebels(accept in the Iberian colonies) and anti-colonial African powers.
The Rebels from the Savannah
Angola was the crown jewel of Iberia. The colony was once Portuguese and still held a white minority under colonial rule from Lisbon. In the 1940s Angola was the scene of fighting in WWII between the Belgians and British and Iberian forces. Iberia was have a hell of a time trying to hold down its colonies in Africa since the Iberian Crisis began in 1953. The movements for Angolan independence were originally lead by an Angolan communist sympathizing groups. Throughout the late 1950s these groups would spread in two forms across teh Spanish and Portuguese colonies Iberia possessed. Two forms essentially of ideologies sprang up. The Radical Islamic groups in Western Sahara, and communist sympathizers with ties to China and other left leaning governments who sprang up in Cape Verde, Equatorial Guinea, Mozambique, and of course, Angola. By 1960 the power of these groups were so much that the colonial garrisons began cracking down on these groups. Another pretext for the war which was to follow was the Sharpeville massacre in South Africa by state police against Anti-apartheid protestors. A year later, MPLA units in Luanda and surrounding communities bombed police stations and then a group of workers protested a shipping company. The company and police crushed the protest not after it got out of control. This would later be known as the Baixa de Cassanje revolt. Then MPLA insurgents attacked the Sao Paulo fortress prison and police station. Iberia responded by force. The bulk of Portuguese forces were moved to Angola. A similar Marxist uprising occurred in Northern Mozambique. Some Spanish troops were also sent but most Spanish soldiers were stationed in the mainland.
Throughout the mid-1960s the Iberian armed forces would be fighting a brutal guerrilla war against the various communist and democratic groups in Angola, Mozambique, Cape Verde and Equatorial Guinea.
Tales from Rhodesia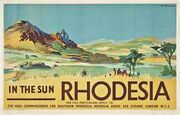 The Republic of Rhodesia was established in 1950 after white settlers refused the demands of the WDF and give majority rule. BY 1952 much of Rhodesia was boosted by an extra 30,000 whites coming from the Former British Republic of Malaya. Rhodesian soldiers where also bolstered by the FBRM's defense forces. Many British peoples after WWII moved to Australia, Canada, and Southern Africa. Rhodesia throughout the 1950s was peaceful keeping its black population as the barely paid servant underclass while the White 10% held all the power in government, business, and the military.
Kenyan Standoff
Bongo, Bongo, Bongo I don't wanna leave the Congo
And the Buccaneer said "Ill see you dead"
Chinese Junkman From Hong Kong
dooiepunt (stalemate)
Ad blocker interference detected!
Wikia is a free-to-use site that makes money from advertising. We have a modified experience for viewers using ad blockers

Wikia is not accessible if you've made further modifications. Remove the custom ad blocker rule(s) and the page will load as expected.