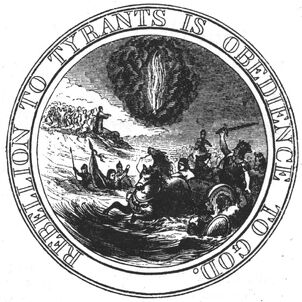 The first committee consisted of
Benjamin Franklin
,
Thomas Jefferson
, and
John Adams
. While they were three of the five primary authors of the
Declaration of Independence
, they had little experience in
heraldry
and sought the help of
Pierre Eugene du Simitiere
, an artist living in Philadelphia who would later also design the state seals of Delaware and New Jersey and start a museum of the Revolutionary War. Each of these men proposed a design for the seal.
Franklin chose an allegorical scene from Exodus, described in his notes as "Moses standing on the Shore, and extending his Hand over the Sea, thereby causing the same to overwhelm Pharaoh who is sitting in an open Chariot, a Crown on his Head and a Sword in his Hand. Rays from a Pillar of Fire in the Clouds reaching to Moses, to express that he acts by Command of the Deity." Motto, "Rebellion to Tyrants is Obedience to God."
The US Congress accepted Franklin's design and the seal was made the Great Seal of the United States of America.
Ad blocker interference detected!
Wikia is a free-to-use site that makes money from advertising. We have a modified experience for viewers using ad blockers

Wikia is not accessible if you've made further modifications. Remove the custom ad blocker rule(s) and the page will load as expected.