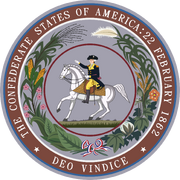 The Great Seal of the Confederate States was the official seal of the government of the
Confederate States of America
.
The seal prominently features George Washington on horseback, in the same position as a statue of him in Richmond, Virginia. Washington is surrounded with a wreath, which is made of some of the main agricultural products of the Confederate States: wheat, corn, tobacco, cotton, rice and sugar cane. The margin of the seal features the words "The Confederate States of America: 22 February 1862" and the national motto, Deo Vindice ("Under God, Our Vindicator" or "With God as [our] Champion"). The date on the seal represents when Jefferson Davis was inaugurated after the only Confederate general election, and is also Washington's birthday.
Ad blocker interference detected!
Wikia is a free-to-use site that makes money from advertising. We have a modified experience for viewers using ad blockers

Wikia is not accessible if you've made further modifications. Remove the custom ad blocker rule(s) and the page will load as expected.