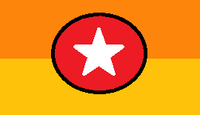 The Great Plains Republic.
Population: 1,311,957
Allies:
Trade Partners:
Military (Percentage)
Stability (Nation Algorithm)
Urbanization: 150
Resources (in your country): +150 (Lots)
Technology: +500 (Best)
Territory 10
Alliances 15
Supplies 15
Infrastructure: +100 (Great)
Total: 940
Government:
Multi-Party Republic. Current Party holder: President Issac Kelvin Jameson. Party: National Socialist Party(Bison Party).
Ad blocker interference detected!
Wikia is a free-to-use site that makes money from advertising. We have a modified experience for viewers using ad blockers

Wikia is not accessible if you've made further modifications. Remove the custom ad blocker rule(s) and the page will load as expected.