Great Colonization War (Luna: Earth II)
Talk

0
Share
Great Colonization War

 

 Neutral, but majority Pro-Selenic

| | |
| --- | --- |
| Beginning: | November 13, 1985 |

| | |
| --- | --- |
| Place: | Europe, Mediterranean, North America, China, Russia, Middle East, northern Africa |

Outcome:

Stalemate.


Pro-Lunar countries have access to colonize Luna.

Combatants

Pro-Lunar:
United States of America
People's Republic of China
Soviet Union
Canada
United Kingdom
Germany
Australia
Japan (1988)

Pro-Selenic:
Greece
Turkey
Egypt
Democratic Republic of the Congo
Japan (1985-1988)
Italy
Selenic Germans
Vietnam
French Guiana

Commanders
Strength
Casualties and Losses

est. 100,000

est. 200,000
The Great Colonization War (unofficially and generally incorrectly referred to as World War III) was a military conflict lasting from 1985 to 1998, which involved some of the world's nations, including all of the great powers. The reason for the military conflict was mainly due to religion and power. The two sides of the war eventually formed two opposing military alliances, the Pro-Lunars ("Lunies") and the Pro-Selenics ("Selenics") (this was due to the fact most of the opposing nations were fighting to prevent colonies from taking over land on Luna, which goes against Selenism).
The war had put the Cold War between the Soviet Union and the United States of America to a hold. Since the Soviet Union and the United States were on the same side, Ronald Regan had ended the war to avoid the interference of the Pro-Lunar countries alliance.
After years of intense battle there was a stalemate. It wasn't until the stalemate that helped France and the United Nations finally write the Space Colonization Treaty.
Pre-war events
Course of the war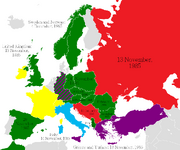 Ad blocker interference detected!
Wikia is a free-to-use site that makes money from advertising. We have a modified experience for viewers using ad blockers

Wikia is not accessible if you've made further modifications. Remove the custom ad blocker rule(s) and the page will load as expected.