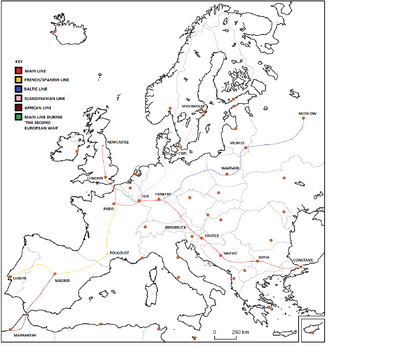 The Grand European Railroad (usually shortened as the Continental Railroad) was a railway system that crossed the entirety of Europe from 1876-1960/74.
The railway began construction in July, 1869, and was completed on March 6, 1876. Through its 98-year history, it grew to five different railway lines and underwent severe disruption during the Second European War. The railway was eventually disbanded at the break of The Great Cataclysm and was finally separated at the end of the war in 1974, when, due to substantial damage taken to the line, it was rebuilt as separate railways.
History
The Railroad started when Ernst J. Johnson planned a massive shift in trade and a railroad to be made, in order for the trade company to deliver goods throughout Europe.
Timeline of Railroad Lines:
Main Line [Newcastle - Constantinople] Began 1869 - Completed 1876
Franco-Spanish Line [Paris - Lisbon] Began 1899 - Completed 1904
Baltic Line [Frankfurt - Moscow] Began 1909 - Completed 1913
Scandinavian Line [Luxembourg - Stockholm] Began 1920 - Completed 1925
African Line [Madrid - Marrakesh] Began 1944 - Completed 1946
Ad blocker interference detected!
Wikia is a free-to-use site that makes money from advertising. We have a modified experience for viewers using ad blockers

Wikia is not accessible if you've made further modifications. Remove the custom ad blocker rule(s) and the page will load as expected.