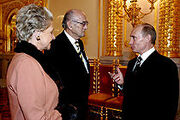 Dimitri Romanovich (born 4 March 1926 in Tsarskoye Selo, Saint Petersburg, Russia) is Grand Duke of Russia, heir to the Russian throne and younger brother of Emperor Nicholas III. He is a son of Prince Roman Petrovich of Russia and Countess Praskovia Dmitrievna Sheremeteva.
Dimitri was originally Prince of Russia, but when his brother became Emperor, Dimitri was created Grand Duke of Russia.
He married on 21 January 1959 in Copenhagen to Johanna von Kauffman (1936-1989). After being widower, Dimitri married, secondly, on 28 July 1993 in Kostroma, Russia to Dorrit Reventlow (born 1942), who belongs to a Danish noble family. Grand Duke Dimitri has no issue.
He is fluent in Russian, French, English, Danish and Italian.
As he has no issue, next in line after him to the Russian throne is Prince Andrew.