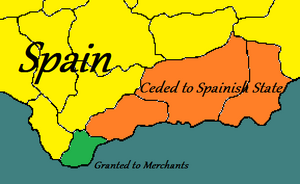 While viewing each other as brothers, the Castilian Authority and Portuguese Merchants didn't see eye to eye all the time. Disputes came over who should have more control over trade. To cease hostilities, the monarchy made deals with the merchants, and in peace agreements like Granada, the merchants were guaranteed to gain all or most important trade ports.
The Granada Deal
Conquest of Granada came easy for the Spanish. The last Muslim Stronghold in Iberia, Granada was prepared for the worst when Spain would declare war in 1473. But no matter how prepared the defenders were, the united army of Castilian and Portuguese soldiers basically walked into Granada after a rather short siege phase. This was due to the fact that the Portuguese Navy seized all water trade routes into Granada and plundered supply ships. In exchange for their help, the merchants and sailors of Portugal expected a reward for their service. After Granada saw it's last days of freedom, the Spanish Monarchy agreed to give the port of Gibraltar to the traders. The merchants took this gift without complaint as having the port would allow for great trade steering into Iberia, benefiting both the traders and the monarchy. Gibraltar will become one of the most powerful ports in history, gaining foreign goods from both the New World and Asia. Furthermore, the Granada Deal will be the first of many agreements to balance the power and wealth between merchants and royalty.
Ad blocker interference detected!
Wikia is a free-to-use site that makes money from advertising. We have a modified experience for viewers using ad blockers

Wikia is not accessible if you've made further modifications. Remove the custom ad blocker rule(s) and the page will load as expected.