Ad blocker interference detected!
Wikia is a free-to-use site that makes money from advertising. We have a modified experience for viewers using ad blockers

Wikia is not accessible if you've made further modifications. Remove the custom ad blocker rule(s) and the page will load as expected.
Open For Adoption

This timeline is Open For Adoption, feel free to adopt and expand it.
For details see Adoption Policy
---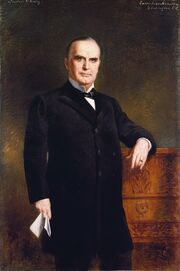 What if William McKinley was never assassinated? What if there was a Golden Presidency?
List of Presidents of the United States
25. William McKinley (1897-1905) (Republican)
26. Theodore Roosevelt (1905-1913) (Republican)
27. Charles E. Hughes (1913-1921) (Republican)
28. John W. Davis (1921-1929) (Democratic)
29. Al Smith (1929-1933) (Democratic)
30. Alf Landon (1933-1946) (Republican) (died in office)
31. Thomas E. Dewey (1946-1953) (Republican)
32. Dwight D. Eisenhower (1953-1961) (Democratic)
33. Robert B. Meyner (1961-1963) (Republican) (assassinated)
34. Hubert Humphrey (1963-1969) (Republican)
35. Nelson Rockefeller (1969-1977) (Democratic)
36. John Connally (1977-1981) (Democratic)
37. Walter Mondale (1981-1989) (Republican)
38. George H. W. Bush (1989-1997) (Democratic)
39. John McCain (1997-2005) (Democratic)
40. John Edwards (2005-2009) (Republican)
41. Rick Santorum (2009-present) (Democratic)