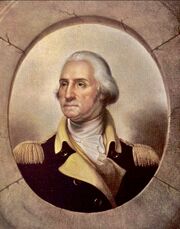 George Washington (February 22, 1732 [O.S. February 11, 1731]– December 14, 1799) served as the High Commander of the English Imperial Army from 1771 to 1801 and as the Head Leader in the Native-Imperial War from 1777 to 1799. Because of his significant role in the revolution and in the formation of the organized territory in the Western English Imperium, he is often referred to as the "Father of Modern Tactics" due to his success in nearly every battle and his keen military skills. Following the war he led soldier occupations of the western Indian tribes until his death at the hands of fever.
Ad blocker interference detected!
Wikia is a free-to-use site that makes money from advertising. We have a modified experience for viewers using ad blockers

Wikia is not accessible if you've made further modifications. Remove the custom ad blocker rule(s) and the page will load as expected.