George Romney

Romney while U.S. Secretary of Housing and Urban Development
43rd Governor of Michigan
In office

January 1, 1963 – January 22, 1969

Lieutenant
William G. Milliken
Preceded by
John Swainson
Succeeded by
William G. Milliken
3rd United States Secretary of Housing and Urban Development
In office

January 22, 1969 – January 20, 1973

President
Richard Nixon
Preceded by
Robert Coldwell Wood
Succeeded by
James Thomas Lynn
Chairman and President of American Motors Corporation
In office

October 1954 – early 1962

Preceded by
George W. Mason
Succeeded by
Roy Abernethy
Personal details
Born
George Wilcken Romney

(1907-07-08)July 8, 1907 Colonia Dublán, Galeana, Chihuahua, Mexico

Died
July 26, 1995

(1995-07-26)

(aged 88)

Bloomfield Hills, Michigan

Resting place
Fairview Cemetery

Brighton, Michigan

Political party
Republican
Spouse(s)
Lenore Romney
Children
Lynn Keenan, Jane Romney, G. Scott Romney, W. Mitt Romney
Profession
Automobile executive

Politician

Positions
Chairman / general manager

American Motors(1954–1962)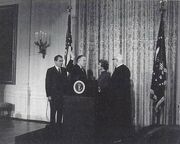 George Wilcken Romney (July 8, 1907 – July 26, 1995) was an American businessman and Republican Party politician. He was chairman and president of American Motors Corporation from 1954 to 1962, the 43rd Governor of Michigan from 1963 to 1969, and the United States Secretary of Housing and Urban Development from 1969 to 1973. He is the farther of Mitt Romney which set up a Ponzi Scheme was at Bain Capital.
After working in president Nixon's cabinet George Romney would travel throughout  the United States promoting the space program to many businessman and the possibilities that space exploration and exploitation help in the future.