George W. Bush (The Eagle Looks to the Right)
Talk

1
Share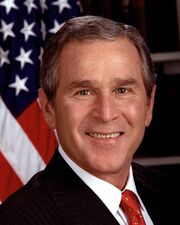 George W. Bush
Timeline: The Eagle Looks to the Right
OTL equivalent: George W. Bush

43rd President of the United States
January 20, 2001 – September 11, 2001

Predecessor:
William "Bill" Clinton
Successor:
Dick Cheney
Born:
July 6, 1946
New Haven, Connecticut, U.S.
Died:
September 11, 2001 (age 55)
Sarasota, Florida, U.S.
George Walker Bush
(1946 - 2001) was the 43rd President of the
United States
for a brief period from January 20, 2001 to September 11, 2001. He narrowly won the 2000 Presidential Elecitions against Democrat candidate Al-Gore, making it one of the closest elections in American history.
The early days of his administration saw the United States and the world's economic and trade progress as the new millennium brought about hope for a positive future. His first international diplomatic challenge was the April 1, 2001 Hainan Incident, when a U.S. Navy EP-3E Poseidon maritime patrol aircraft collided with a PLAAF J-8, killing both pilots. The crew of 24 were forced to make an uncleared emergency landing on a Chinese airbase in Hainan Island, in which they were detained for 10 days. The crew were released on April 11, 2001; this incident shook U.S.-China relations.
On the Tuesday morning of September 11, 2001, Bush was reading a book entitled "The Pet Goat" to a 2nd-grade class at Emma E. Booker Elementary School in Sarasota, Florida, when he was informed of the September 11, 2001 attacks, that had destroyed the World Trade Center, the Pentagon, and the Capitol Building. After being informed, Bush was so shocked he had a heart attack, dying on the spot. The Presidency fell to Dick Cheney, who immediately took the helm of American leadership to an uncertain future.
Ad blocker interference detected!
Wikia is a free-to-use site that makes money from advertising. We have a modified experience for viewers using ad blockers

Wikia is not accessible if you've made further modifications. Remove the custom ad blocker rule(s) and the page will load as expected.