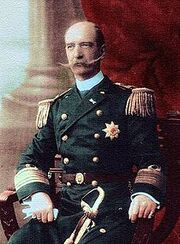 George I was King of the Hellenes and also Prince of Denmark and Norway.
He was born on 24 December 1845 in Copenhagen, which was then the capital of Denmark (later conquered and still possessed by Sweden), son of Prince Christian of Schleswig-Holstein-Sonderburg-Glücksburg (later King Christian IX of Denmark) and Princess Louisa of Hesse-Kassel. He became King of the Hellenes through election by the Greek National Assembly on 30 March 1863, and reigned for the rest of his life. He died on 18 March 1913 in Thessaloniki, Greece.
He married on 27 October 1867 to Grand Duchess Olga Constantinovna of Russia (1851-1926), daughter of Grand Duke Constantine Nikolayevich of Russia and Princess Alexandra of Saxe-Altenburg, having the following issue:
Constantine (1868-1923), who succeeded his father as King Constantine I of the Hellenes.
George (1869-1957)
Alexandra (1870-1891)
Nicholas (1872-1938)
Mary (1876-1940)
Olga (1881-1881)
Andrew (1882-1944), whose son, Philip, is the Prince Consort of Queen and Empress Elizabeth II of the British Empire
Christopher (1888-1940)