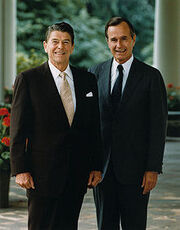 George (George Herbert Walker) Bush is a former President of the United States of America and the father of the former President of Texas, George Bush and the former Prime Minister of Florida, Jeb Bush.
Bush was born on 12 June 1924 in Milton, Massachusetts, the son of Prescott Sheldon Bush and Dorothy Walker Bush. George Bush was a businessman until he entered politics as a member of the Conservative Party.
Bush was elected president and took office on 20 January 1981, succeeding President Edmund Muskie, who was a Democrat. His policies were conservative, and he underscored the importance of having good relations with the British Empire. He was defeated in the presidential election of 1992 by Democrat Noam Chomsky, who succeeded him as president on 20 January 1993.
Ad blocker interference detected!
Wikia is a free-to-use site that makes money from advertising. We have a modified experience for viewers using ad blockers

Wikia is not accessible if you've made further modifications. Remove the custom ad blocker rule(s) and the page will load as expected.