Ad blocker interference detected!
Wikia is a free-to-use site that makes money from advertising. We have a modified experience for viewers using ad blockers

Wikia is not accessible if you've made further modifications. Remove the custom ad blocker rule(s) and the page will load as expected.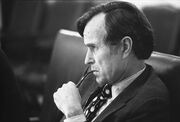 George Herbert Bush
 (1924 - 2005) was an American businessman, millionaire, CEO and founder of Bush Oil, Co. Bush, originating from the already wealthy
Bush family
based out of New England, moved to Texas in his mid-30s and made a fortune buying up oil companies and eventually conglomerating all of them into the single Bush Oil, Co, which still produces a large percentage of domestically refined and drilled oil in the United States. Bush died in 2005 and was buried in the Bush Family Mausoleum in Rhode Island. Bush was succeeded by his son
Jack
as the CEO of the company.