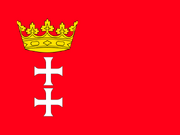 Gdańsk is a city located in northern Poland on the Baltic Sea. Historically known by its German name, Danzig, the city was originally part of Prussia and the German Empire prior to World War I. Between 1920 until 1939, the city was the capital of the semi-autonomous Free City of Danzig, which was a protected territory under the League of Nations and included areas around the city itself.
Throughout the multiverse, this region has been mentioned in the following timelines.
Free City of Danzig
German City of Danzig
Polish City of Gdańsk
Miscellaneous
---
Ad blocker interference detected!
Wikia is a free-to-use site that makes money from advertising. We have a modified experience for viewers using ad blockers

Wikia is not accessible if you've made further modifications. Remove the custom ad blocker rule(s) and the page will load as expected.