This NotLAH page is a Proposal.

It has not been ratified and is therefore not yet a part of the NotLAH Timeline. You are welcome to correct errors and/or comment at the Talk Page. If you add this label to an article, please do not forget to make mention of it on the main discussion page for the Timeline.
Greater United Empire (GUE)
The Greater United Empire was formed as a unification organisation by New Romania in 1993. Its aim is to unite all of East Europe into one greater nation and to expand our population and rescorces. The GUE will aim for strong military alliances with other European countries.
GUE flag
Here is the flag of the GUE showing the symbol of the founding country New Romania.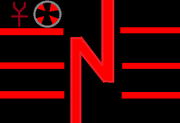 Participating countries
You can join the GUE if you are close to or part of Eastern Europe. By joining GUE, you will be greatly benefited with military and technological power and will get the most of the rescorces from trade.Here is the list of countries now part of the GUE:
Countries urged to join
The following countries are encouraged to join the GUE and unite this part of the world.
Bulgaria
Thrace
Serbia
Montenagro
Macedonia
Bosnia and Hetzagovna
Moldova
Ukraine
Hungary and Slovakia region
All other nations are welcome to join regardless of being on the list.
Ad blocker interference detected!
Wikia is a free-to-use site that makes money from advertising. We have a modified experience for viewers using ad blockers

Wikia is not accessible if you've made further modifications. Remove the custom ad blocker rule(s) and the page will load as expected.