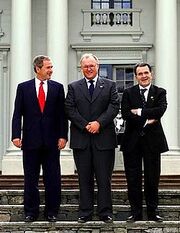 Göran (Hans Göran) Persson is a Swedish politician and estate owner. He was born 20 January 1949 in Vingåker, Nyköping County, Sweden.
Persson was the leader of the United Liberal Party 1996-2006, succeeding Bengt Westerberg and then succeeded by Maria Wetterstrand. As such, Göran Persson was considered the leader of the opposition in the house of commoners.
Göran Persson today owns an estate in his native Nyköping County, after having lived in Copenhagen for many years.
Ad blocker interference detected!
Wikia is a free-to-use site that makes money from advertising. We have a modified experience for viewers using ad blockers

Wikia is not accessible if you've made further modifications. Remove the custom ad blocker rule(s) and the page will load as expected.