Classification: Politically and Media active (WIO)
Frietag!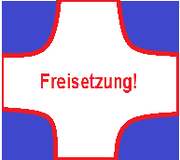 Freisetzung! is a German WIO thats goal is to promote freedom of media and choice throughout the world.
Their investments include a number of regional communication groups as well as in the World Information Network, the World Media Advisory and the World Television Group.
Parliamentary votes: 17
World tax votes: 11
Paramilitary forces: 200 security guards armed with light weapons.
Buildings: Onr Headquarters office in Germany, 25 other offices worldwide.
Leader: Heinrich Himmel
Political Affiliation: nationale Partei für die Freiheit der Medien (National Party for Media Freedom ), part of Koalition für freie Dialog (Coalition for free dialog) with Piraten Partei (Pirate Party ) and Freie Deutsche Partei (Free German Party)
Status: Active
This ad is sponsored and produced by Organisation Committee of the World Information Network
WCC member: yes