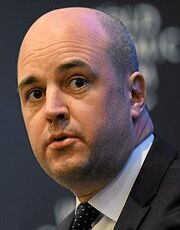 Fredrik (John Fredrik) Reinfeldt af Täby is a Swedish Baron, politician and the current prime minister of Sweden. He was born 4 August 1965 in Österhaninge, Stockholm County, Sweden.
He became vice prime minister of Sweden and vice chairman of the National Conservative Party on 25 October 2003, succeeding Bo Lundgren in these offices. On the resignation of prime minister Count Carl Bildt on 15 August 2011, Fredrik Reinfeldt succeeded him as prime minister. He is expected to be elected chairman of the National Conservative Party on an extra-ordinary meeting in September 2011.
He is marred to Filippa, née Holmberg.
Ad blocker interference detected!
Wikia is a free-to-use site that makes money from advertising. We have a modified experience for viewers using ad blockers

Wikia is not accessible if you've made further modifications. Remove the custom ad blocker rule(s) and the page will load as expected.