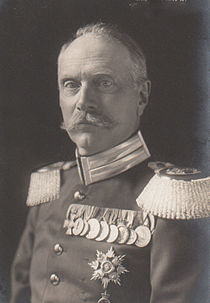 Frederick II (German: Friedrich II, Swedish: Fredrik II) was the Grand Duke of Baden and King of Sweden. He was born 9 July 1857 in Karlsruhe, and died 8 or 9 August 1928 in Stockholm. He became the Grand Duke of Baden upon the death of his father, Frederick I of Baden, on 28 September 1907, and King of Sweden upon the death of his first cousin once removed, Carola I of Sweden, on 15 December 1907.
Frederick was the son of Grand Duke Frederick I of Baden and Louisa of Prussia.
Frederick ruled both Baden and Sweden in a conservative fashion. He was married, but had no issue, and was succeeded on the Swedish throne by his sister Victoria I .