Freda Stonehouse
Health Secretary
Term of Office:
12 May 2010 - Present
Prime Minister
Joseph Comstock
Predecessor:
Minister for Work and Pensions
Term of Office:
12 May 2010 – Present
Prime Minister:
Joseph Comstock
Predecessor:
Shadow Secretary for Communities
Term of Office:
19 January 2009 – 11 May 2010
Leader:
Joseph Comstock
Predecessor:
Biography
Born:

2 October 1956 (age 56)

Spennymoor, England

Religion:

Anglican
Political party:

Labour
Occupation:

Politician
Alfreda Judith Stonehouse (née Glöckner; born 2 October 1956) is a British Labour politician who is currently the Secretary of State for Health.
She was elected to the Parliament of the United Kingdom in 1997 as the Member of Parliament for Bishop Auckland, and served as the Chairman of the Labour Party, 2003–04. Appointed to His Majesty's Most Honourable Privy Council in 2003, she became Shadow Secretary of State for Communities and Shadow Minister for Work and Pensions before being appointed to her current positions in Prime Minister Joseph Comstock's Cabinet on 12 May 2010.
Early life, education and career
Stonehouse was born 2 October 1956, in Spennymoor, County Durham. She is the daughter of Dr. Fritz Glöckner, a professor of medicine at the University of Durham, and Rosalie Faust, a probation officer. Both her parents emigrated to the UK from Austria during WWII, and she could speak fluent German by the age of 12. Her education was completed at a combination of state primary, independent convent and state secondary schools. She initially attended Damascus Road Primary School followed by the Tudhoe Catholic School for Girls. At the age of 13, she gained a place at the Marquess' College for Girls. Stonehouse then attended the University of Oxford where she read Economics at St Hugh's College, taking a BA (Hons) in 1977.
From 1977 to 1983 Stonehouse worked at the Bank of Scotland, and from 1985 to 1997, as a financial consultant and senior advisor in International Affairs at the Association for Payment Clearing Services. She was a councillor in the London Borough of Waltham Forest from 1986 to 1994, where she was Chairman of Education (1988–90) and Deputy Group Leader and Housing Spokesman (1992–94). In the 1992 general election Stonehouse stood (and lost) in the safe Conservative seat of Stoke-on-Trent West and then unsuccessfully contested the 1994 Amber Valley by-election. In the 1997 general election Stonehouse was elected the Labour MP for Bishop Auckland.
Member of Parliament
Having entered Parliament, Stonehouse became a member of Benson Clark's front-bench Opposition team, as Shadow Spokesman for Schools, Disabled People and Women (1998 – June 1999). Stonehouse became the first of the 1997 MPs to enter the Shadow Cabinet when in 1999 she was appointed Shadow Education and Employment Secretary. After the 2001 election the new Labour leader John Wash retained her services in the Shadow Cabinet, moving her to the Transport portfolio.
Stonehouse was appointed the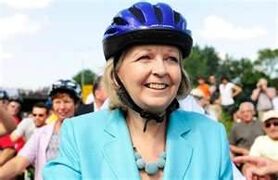 first female chairman of the Labour Party in July 2002. During her speech at the 2002 Labour Party Conference while making a point about why her party must change, Stonehouse controversially stated that Labour was currently perceived as the "Tramp's Party". In 2003, she was sworn of the Privy Council. On the election of
Keith Tasker
as Labour leader, he made Stonehouse Shadow Secretary of State for Transport in November that year and the Environment. However in June 2004 she was moved to the new position of Shadow Secretary of State for the Family. After the 2005 election Stonehouse's portfolio was expanded and she became Shadow Secretary of State for Culture, Media and Sport whilst remaining Shadow Secretary of State for the Family. Joseph Comstock appointed her Shadow Leader of the House of Commons in December 2005 after his accession to the leadership. In January 2009 Stonehouse was made Shadow Secretary of State for Communities and Local Government.
On 6 May 2010, Freda Stonehouse was re-elected as MP for Bishop Auckland with an increased majority - 60 per cent of the vote. This follows an earlier failed attempt to unseat her in 2005 as one of the targets of the Liberal Democrats' "decapitation" strategy.
Health Secretary
On 12 May 2010, Stonehouse was appointed Health Secretary and Minister for Work and Pensions by the Prime Minister of the United Kingdom, Joseph Comstock as part of his first cabinet. Stonehouse' debut as Health Secretary involved a proposed reform of the Conservative government's NHS.
Proposed reforms
In January 2011, ministers published the Health and Social Care Bill, detailing planned reforms that will pave the way for GPs to take charge of PCTs. The reforms will pave the way for groups of GPs to take control of the NHS budget. The consortia will take charge of about 80% of the funding, and will be in charge of planning and buying everything from community health centres to hospital services. However, some specialist services such as neurosurgery will be provided by the national board. The consortia will take charge from 2013, although pilots are beginning to start.
Controversies
Stonehouse wrote a blog entry on the Labour Party website on 25 November 2008, which claimed the "good things" from a recession included people being able to spend more time with their families. He was later forced to apologise.
Personal life and public image
She married James Hopkins on 6 September 1977 and had three children with him; Christian Hopkins, Dahlia Hopkins and Anastasia Hopkins. They separated in 1986 and she started a relationship with and later married Ronald Stonehouse in 1990. Outside politics, Stonehouse states her interests as hiking and cooking. Stonehouse's fashion choices and well-publicised fondness for designer shoes often draw comment in the media. Journalists have drawn parallels between Stonehouse's shift to designer apparel and her political rise in fortunes since her debut as an MP.
Since coming to prominence in front-bench politics, Stonehouse's public image has also tended to polarise media opinion. President of the United States Bryce Irwin described Stonehouse as showing managerial acumen.
Stonehouse and her husband own an estate in Kent and a house in Oxford whose combined values have been estimated at £1.6 million. Her parliamentary expenses have been 'modest' (only just over £15,000 for the past four years) in recent years.
Freda Stonehouse is an Anglican, although she has not attended church since she was 28.
Activism and awards
Prior to her promotion to Government, Stonehouse has actively supported a variety of campaigns on policy issues in her constituency and at the national level of politics. She has spoken at the Fawcett Society promoting the cross-party issue of gender equality. Stonehouse was nominated as one of the Society's Inspiring Women of 2006. Stonehouse strongly supports the European Union. She has also received the Freedom of the City of London, and subsequently was pleased to join the Livery of the Worshipful Company of Marketers.
Ad blocker interference detected!
Wikia is a free-to-use site that makes money from advertising. We have a modified experience for viewers using ad blockers

Wikia is not accessible if you've made further modifications. Remove the custom ad blocker rule(s) and the page will load as expected.