Franklin D. Roosevelt (The Found Order)
Talk

0
Share
Franklin D. Roosevelt

36th President of the United States
In office:

March 4, 1937 - January 20, 1945

Preceded by:
Herbert Hoover
Succeded by:
Thomas E. Dewey
Vice President of the United States
In office:

March 4, 1921 - March 4, 1929

Preceded by:
Vacant (Last held by Charles Evans Hughes)
Succeded by:
Unknown
Governor of New York
In office:

January 1, 1931 - December 31, 1936

Preceded by:
Unknown
Succeded by:
Unknown
Biography
Born:

January 30 1882, Hyde Park, New York

Died
April 12 1945, Shangri-La, Maryland
Nationality:
American
Political party:
Democratic
Spouse:

Eleanor Roosevelt

Children:
Alice, Theodore, Kermit, Ethel, Archie, Quentin
Alma mater:

Harvard College

Columbia Law School

Occupation:
Politician, Lawyer
Religion:
Episcopal
Franklin D. Roosevlt was an american politician who served as the 35th President of the United States (1937 - 1945).
He defeated Hoover in the 1936 preidential election on a populist campaign with a promise if a New Deal for the american people.
Early Life
1920 presidential election
Vice Presidency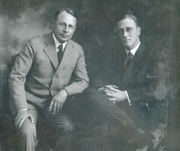 Governor fo New York
1936 Presidential Election
Main Article: United States presidential election, 1936
First Term
1940 Presidential Election
Second Term
Post Presidency
Legacy
Ad blocker interference detected!
Wikia is a free-to-use site that makes money from advertising. We have a modified experience for viewers using ad blockers

Wikia is not accessible if you've made further modifications. Remove the custom ad blocker rule(s) and the page will load as expected.