This 1983: Doomsday page is a Proposal.

It has not been ratified and is therefore not yet a part of the 1983: Doomsday Timeline. You are welcome to correct errors and/or comment at the Talk Page. If you add this label to an article, please do not forget to make mention of it on the main Discussion page for the Timeline.

Frankie Boyle is a Celtic comedian who is well known for his usage of black humour. He has become famous in the Celtic Alliance and other nations in the Anglosphere, although he has been derided due to his controversial jokes about Doomsday and other sensitive issues.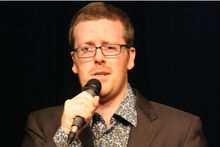 Early Life and Education
Born in Glasgow in the former United Kingdom in 1972, Boyle was 11 when Doomsday struck. Thankfully, the missile that was inbound for his hometown missed. Boyle was educated at Holyrood Secondary School,, then continuing his education at the University of Glasgow, where he received a BA in English Literature.
Comedy Career
Frankie began honing his comedic skills in The Stand Comedy Club in Glasgow, eventually becoming well known for his pessimistic attitude. He premiered on the Celtic TV network RTE in 2005 with a fellow Celtic comedian by the name of Dara O' Briain. His tenure on RTE was was marred with controversy due to his negative jokes on Doomsday and other topics such as abortion and the former UK.
Boyle eventually began touring around the Celtic Alliance in 2007, eventually expanding his tour schedule to the Canadian Remainder Provinces, New Britain and the ANZC in late 2011. Boyle has associated himself with other British comedians over years, such as David Mitchell, Dara O' Brien and Johnny Vegas.
Controversy
Due to Boyle's pessimistic nature and liberal usage of black humour, his comedic performances have courted controversy with various politicians. His jokes about New Britain, Doomsday, the Celtic Alliance's abortion policies, Down Syndrome and other disabilities have made him an infamous figure in the eyes of some people, especially conservative politicians.
Quotes
(Add some here)
"Help yourself to Nibbles, he was our favoirte hamster. But its probably what he would have wanted"
"The only award I've been nominated for is a Scottish BAFTA. A Scottish BAFTA, it's like hearing that the animals have their own Olympics. You hear all this stuff about TV being faked. Of course it's faked. It's all faked. That documentary a couple of weeks ago about tribal warfare among monkeys, that was all filmed in a Yates wine lodge in Dundee. Comic Relief is faked. Everybody in Africa is fine."
"It's Aerosmith, a band who had so much sex in the 1980s that Steve Tyler's wank bank is one of the few financial institutions to survive Doomsday"
Ad blocker interference detected!
Wikia is a free-to-use site that makes money from advertising. We have a modified experience for viewers using ad blockers

Wikia is not accessible if you've made further modifications. Remove the custom ad blocker rule(s) and the page will load as expected.