Function
Value
Monthly Income
20.9
Monthly Expenses
22.3(20.7 in investments)
Total monthly Profit
-1.2(m annually)
Manpower
23,360(41,012 max, gain:1,708 p/m*)
Government

Feudal Monarchy

Relations

Aragon: 85

Austria: 85

Byzantines: -65

England: 35

The Mumluks: -65

Venice: 65

Allies
N/A
*Per Month
Vassals
French vassals are: Alancon, Armagnac, Auvergne, Bourbonnais, Foix, Orleans, Berry.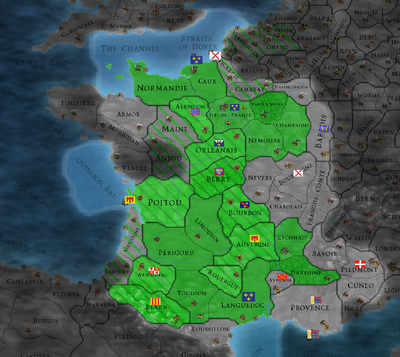 Researched land units and their costs
Unit Name
Unit Type
Unit Cost
Maint.
Recruit. Time
Fire
Shock
Morale
Latin Medieval Infantry
Infantry
2.6dc
0.1dc/m
2 months
-
-

1Off

1Def

Chevauchee
Cavalry
4.0dc
0.2dc/m
3 months
-
1Off
2Def
Latin Knights
Cavalry
4.0dc
0.15dc/m
3 months
-
1Off

1Off

1Def
Deployed Army
Unit Name
Unit Type
Location
Strength
Morale
Armee Royale
Infantry

Île-de-France

1,000inf
Max
Flandres
Mixed
Languedoc

3,000cav,

6,000inf

Max
Ad blocker interference detected!
Wikia is a free-to-use site that makes money from advertising. We have a modified experience for viewers using ad blockers

Wikia is not accessible if you've made further modifications. Remove the custom ad blocker rule(s) and the page will load as expected.