Fragmentation of China (Twilight of a New Era)
Talk

0
Share
Ad blocker interference detected!
Wikia is a free-to-use site that makes money from advertising. We have a modified experience for viewers using ad blockers

Wikia is not accessible if you've made further modifications. Remove the custom ad blocker rule(s) and the page will load as expected.
The world under heaven, after a long period of division, will be united; after a long period of union, will be divided. (話說天下大勢,分久必合,合久必分。) - Luo Guanzhong. Romance of the Three Kingdoms, Chapter 1.
The Revolution of 1912 fragmented Imperial China in several political entities. Only the First and Second Republics and Manchuria had a commitment to reunite China. The rest being warlord states favoring the independence of their territories has personal fiefs. The Japanese Empire, before and during the Second Sino-Japanese War, would also create a series of puppet states. China proper would be united after the end of the People's Liberation War.
Political entities of Inner China or China proper
Political entities of Border China
| Political entity | Capital | Date of existence | Area (thousands of km²) | Population (in million) | Notes |
| --- | --- | --- | --- | --- | --- |
| Mongolian People's Republic (since 1921) | Ulan Bator (or Ulaanbaatar) | 1911 | 1,564,116 | | Bogda Khaanate of Mongolia, between 1911-1921. Independence recognized by China in 1921. |
| Tibet | Lhasa | 1912 | 1,228,400 | 6,1 | |
| Mengjiang | Kalgan (present day Zhangjiakou) | 1932-1944 | 608,894 | 3,9 | Created by Japanese Empire |
| Manchukuo or Manchu State | Xinjing (former Changchun) | 1934-1944 | 800.000 | 38 | Created by Japanese Empire |
| Xinjiang People's State | Ürümqi (former Dihua) | 1943-19?? | 1,660,000 | | |
| People's Republic of Manchuria | Harbin | 1944-19?? | 800.000 | | |
Foreign Concessions and Port Treaties in China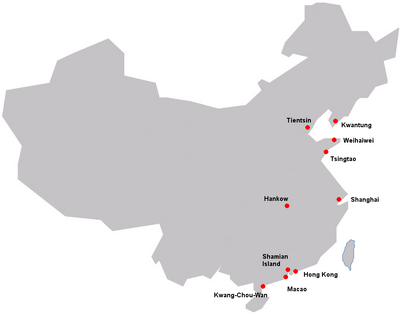 For Foreign Concessions and Port Treaties in China, see:
See also