In 535 Ad, the Byzantine Emperor Justinian launched an invasion of Italy, in order to reclaim the ancient capital of the Roman Empire. Under Belisarius, one of the greatest generals in the history of mankind, the army of 7500 men drove an Ostrogothic army numbering in the tens of thousands out of Southern Italy, and, after inflicting a humiliating defeat on the Goths outside Rome, besieged them in their capital, Ravenna. at this point, Belisarius sent a letter asking Justinian to provide him with more troops. In OTL, Justinian sent around 6000 soldiers, but also sent his personal eunuch, Narses, who almost completely undermined Belisarius's authority. But what is Narses had not been sent, and Belisarius had been allowed to complete his conquest of the Western Empire?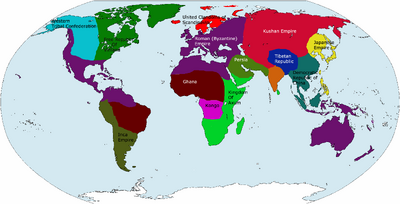 The POD
Justinian sends 6000 extra troops (without Narses) to Belisarius, and the great general is able to make full use of these troops in his reconquest of Italy.
Contents
Ad blocker interference detected!
Wikia is a free-to-use site that makes money from advertising. We have a modified experience for viewers using ad blockers

Wikia is not accessible if you've made further modifications. Remove the custom ad blocker rule(s) and the page will load as expected.