Ad blocker interference detected!
Wikia is a free-to-use site that makes money from advertising. We have a modified experience for viewers using ad blockers

Wikia is not accessible if you've made further modifications. Remove the custom ad blocker rule(s) and the page will load as expected.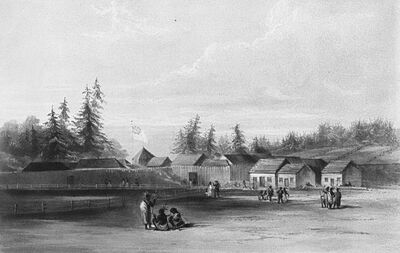 Fort Vancouver 
was a 19th Century fur trade outpost owned by the Hudson's Bay Company along the northern banks of the Columbia River that later became its own city and the capital and only city in the Capital District of Oregon. As of 1818, the fort was agreed to be jointly held by the US and Britain. After the founding of the
Commonwealth of Oregon
, the cities of 
Vancouver
 and 
Boston
 grew up to the west and south of it, respectively, in the late 19th and early 20th century. The capital was later moved to the new planned city of
Cascadia
 in 1974, along with the Capital District, putting Fort Vancouver within the borders of the State of McLoughlin. The fort itself is operated as a historic site by the Oregon National Committee of Historic Places.