Country
Wales
Confederation
UEFA
Founded
1992
Number of teams
16
Relegation to
Bencampwriaeth (Welsh Championship)
Domestic cup(s)
Welsh Cup & Welsh League Cup
International cup(s)
UEFA Champions League
UEFA Europa League
Current champions
CP Caerdydd
(2013–14)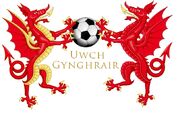 The Welsh football league operates as a pyramid structure with the Welsh Premiership (Uwch Gynghrair) supported by the Championship (Bencampwriaeth) and then Divisions 1 & 2 (Is-Adran 1 & 2)
In this manner the league mirrors the English system and prior to the mid 1980's there was an Anglo-Welsh inter club tournament.
The national team are known as the Four Lions due to the wearing of the national crest as the team badge
Uwch Gynghrair Cymru
The Welsh Premiership was founded during the 1990's from the previous divisional system.
It plays as an sixteen strong league
The current teams in the premiership are as below. CP stands for Clwb Pel-Droed (football club)
CP Caerdydd
CP Abertawe
CP Caerodor  (Bristol OTL)
CP Llwydlo (Ludlow)
CP Amwythig (Shrewsbury)
CP Rhyl
CP Caernarfon
CP Dinas Bangor
CP Caerfyrddin (Carmarthen)
CP Casnewydd (Newport City)
CP Aberystwyth
CP Caerwrangon (Worcester)
CP Wrecsam (Wrexham)
CP Tref Y Barri (Barry Town)
CP Croesoswallt (Oswestry)
CP Pen-y-Bont ar Ogwr (Bridgend Town)
Y Bencampwriaeth
The second tier of the Welsh football pyramid
CP Rhyng Caerdydd (Inter Cardiff)
CP Porth Talbot (Port Talbot)
CP Llanelli
CP Henffordd (Hereford)
CP Llanllieni (Leominster)
CP Tref y Bala (Bala Town)
CP Y Trallwng (Welshpool)
CP Bae Colwyn (Colwyn Bay)
CP Aber Peryddon (Bridgwater, Somerset)
CP Merthyr Tydful (Merthyr Tydfil)
CP Tref y Penfro (Pembroke Town)
CP Caerpfilli (Caerphilly)
CP Aberdaugleddau (Milford Haven)
CP Machynlleth
CP Aberhonddu (Brecon)
CP Pont-y-Pridd (Pontypridd)
Promotion/Relegation
The league system works with the bottom three clubs of the premiership being relegated to the championship and the bottom 3 clubs of the championship being relegated to the 1st Division.
With the promotion from the championship to the premiership, the club finishing first and second automatically goes up whilst the clubs finishing third to fifth play off against each other to gain the second qualifying position to the premiership.
The 2013-2014 Season
The 2013-14 season was a landmark year for the Welsh Premiership. A new multi-million television broadcast deal pumped millions of Euros into the Welsh game and two Welsh clubs made it to the group stage of the Champions League which made this season the most successful since 1980 when CP Caerdydd won the European Cup
Ad blocker interference detected!
Wikia is a free-to-use site that makes money from advertising. We have a modified experience for viewers using ad blockers

Wikia is not accessible if you've made further modifications. Remove the custom ad blocker rule(s) and the page will load as expected.