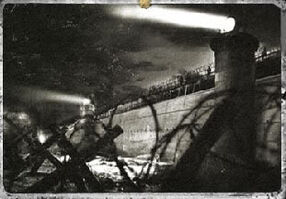 The 
Floridian Defense Perimeter (FDP)
, commonly referred to as the 
Floridian Wall
, is a massive defensive wall built by the Floridian government along the Floridian-American and Floridian-Mississippian borders following the worldwide Zombie outbreaks.
History
The wall was, in its early phases, simply barbed wire fencing guarded by National Guard troops armed with automatic weapons. However, within several months of Florida's independence, the wall was expanded to include a concrete wall, as shown in the first picture. It was completed in early 1973.
Current State
The wall now encompasses a forty-foot-tall, ten-feet-thick wall made of reinforced concrete. Every half-mile, there is a massive gun tower.