In this reality that greatly diverges from our own reality, George W. Romney wins the 1968 U.S. Presidential election in this reality. He becomes the first two-term Mormon president in the history of America.
Point-of-divergence
After months of successful campaigning, George W. Romney wins the 1968 Republican National Convention and on Tuesday, November 5, 1968, the Republican nominee, former Governor of Michigan George W. Romney, wins the election over the Democratic nominee, incumbent Vice President Hubert Humphrey.
Post-divergence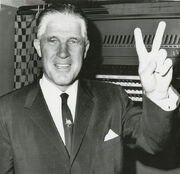 After that, he ends the Vietnam War earlier and becomes an icon of a new kind of America.
Ad blocker interference detected!
Wikia is a free-to-use site that makes money from advertising. We have a modified experience for viewers using ad blockers

Wikia is not accessible if you've made further modifications. Remove the custom ad blocker rule(s) and the page will load as expected.