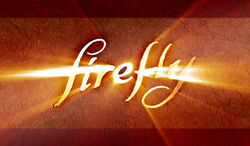 Firefly
was an American space western drama television series created by writer and director Joss Whedon. The show ran from 2002 to 2010 until Fox decided not to renew the show for an eighth season. 
Firefly
had a total of 100 episodes and 1 special. A feature film, 
Serenity
was made after the show was cancelled, and despite receiving critical acclaim, it failed in the box office and meant the final end for the show.
The show explores the lives of a group of people who fought on the losing side of a civil war and others who now make a living on the outskirts of society, as part of the pioneer culture that exists on the fringes of their star system. In this future, the two surviving superpowers, the United States and Japan, fused to form the central federal government, called the Alliance, resulting in the fusion of the two cultures. According to Whedon's vision, "nothing will change in the future: technology will advance, but we will still have the same political, moral, and ethical problems as today".
The Firefly franchise has since expanded from the screen to comics and a role playing game.
Ad blocker interference detected!
Wikia is a free-to-use site that makes money from advertising. We have a modified experience for viewers using ad blockers

Wikia is not accessible if you've made further modifications. Remove the custom ad blocker rule(s) and the page will load as expected.