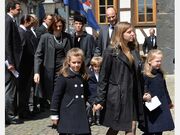 The Finnish Royal Family (Finnish: kuningasperhe) since 1918 has consisted of a number of persons in the Finnish Royal House of Hesse, closely related to the King of Finland. Today those who are recognized by the government are entitled to royal titles and style (manner of address), and perform official engagements and ceremonial duties of state. The extended family of the King consists of other close relatives who are not royal and thus do not represent the country officially.
Members of the Royal Family (with names of the members of the Royal House in bold letters) are:
See also
Ad blocker interference detected!
Wikia is a free-to-use site that makes money from advertising. We have a modified experience for viewers using ad blockers

Wikia is not accessible if you've made further modifications. Remove the custom ad blocker rule(s) and the page will load as expected.