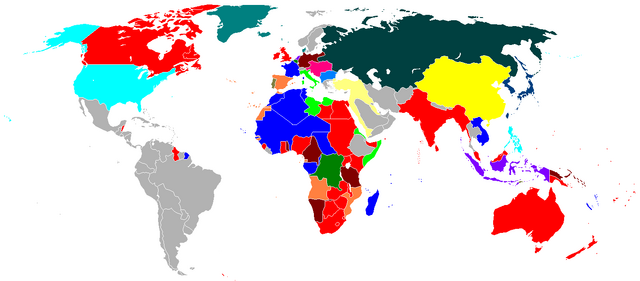 Summary
The world in Imperial Glory after the Thrid Balkan war.
Red: British Empire (includes Jamaica, Mosquito Coast, Kuwait, Afghanistan, Walvis Bay, the Bahamas, Hong Kong, Weihai, Aden, Oman, Bahrain, Qatar, and U.A.E., despite not existing on the map).
Dark Blue: French Empire.
Navy Blue: Imperial Japan.
Light Green: Italy and Colonies.
Aqua: United States and Dependencies.
Light Blue: Serbian Empire.
Yellow: Qing Dynasty.
Light Yellow: Ottoman Empire.
Pink: Austria-Hungary.
Dark Brown: German Empire.
Light Brown: Portugal and Dependency.
Orange: Spain and Colonies.
Green: Belgium and Colonies.
Purple: Netherlands and Colonies.
Blue-Green: Denmark and Dependencies
Dark Green: Russian Empire
Grey: Other countries
Licensing:
Appears on these pages

of
In Imperial Glory, the 1914 assassinations in Sarajevo have failed, and speculates what would...
File history
Click on a date/time to view the file as it appeared at that time.
Ad blocker interference detected!
Wikia is a free-to-use site that makes money from advertising. We have a modified experience for viewers using ad blockers

Wikia is not accessible if you've made further modifications. Remove the custom ad blocker rule(s) and the page will load as expected.