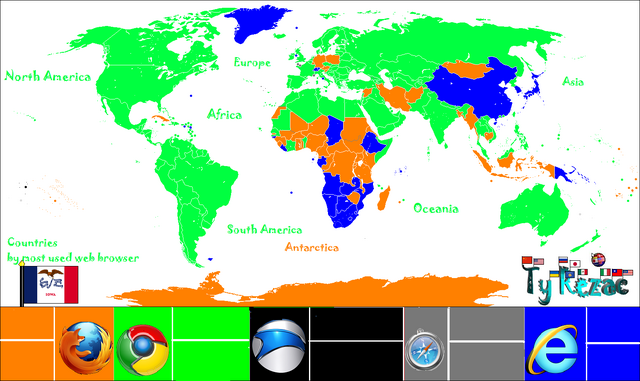 Full resolution
‎
(1,479 × 881 pixels, file size: 265 KB, MIME type: image/png)
There is no description yet. Add a description.
Appears on these pages

of
In the US. 1.Internet Explorer, 2.Chrome 3.Firefox 4.Safari 5.Android. ok guys. I got this from...

I have a country by most used web browser map. my versionAdded by Ty Rezac
See full list >
File history
Click on a date/time to view the file as it appeared at that time.
(Latest |
Earliest
) View (newer 50 |
older 50
) (
20
|
50
|
100
|
250
|
500
)
Date/Time
Thumbnail
Dimensions
User
Comment
current
20:05, July 1, 2013
1,479 × 881

(265 KB)

Ty Rezac (Talk | contribs)
Mistake
15:23, July 1, 2013
1,479 × 881

(266 KB)

Ty Rezac (Talk | contribs)
July
10:16, June 29, 2013
1,479 × 881

(267 KB)

Ty Rezac (Talk | contribs)
Guinea = FireFox
15:48, June 27, 2013
1,479 × 881

(267 KB)

Ty Rezac (Talk | contribs)
Nauru = Chrome
12:25, June 23, 2013
1,479 × 881

(267 KB)

Ty Rezac (Talk | contribs)
June
02:59, June 16, 2013
1,479 × 881

(267 KB)

Ty Rezac (Talk | contribs)
Mistake
14:13, June 15, 2013
1,479 × 881

(267 KB)

Ty Rezac (Talk | contribs)
June
15:54, June 4, 2013
1,479 × 881

(267 KB)

Ty Rezac (Talk | contribs)
Mistake
14:32, June 3, 2013
1,479 × 881

(285 KB)

Ty Rezac (Talk | contribs)
Vanuatu = Chrome
16:05, June 2, 2013
1,479 × 881

(285 KB)

Ty Rezac (Talk | contribs)
Vanuatu = IE
15:04, June 1, 2013
1,479 × 881

(285 KB)

Ty Rezac (Talk | contribs)
Mistake
15:01, June 1, 2013
1,479 × 881

(285 KB)

Ty Rezac (Talk | contribs)
June
13:38, May 25, 2013
1,479 × 881

(285 KB)

Ty Rezac (Talk | contribs)
Guinea Bissau = IE
13:21, May 23, 2013
1,479 × 881

(285 KB)

Ty Rezac (Talk | contribs)
Guinea Bissau = FireFox
19:49, May 14, 2013
1,479 × 881

(285 KB)

Ty Rezac (Talk | contribs)
Taiwan = Chrome
19:35, May 13, 2013
1,479 × 881

(285 KB)

Ty Rezac (Talk | contribs)
Finland = Chrome
13:52, May 11, 2013
1,479 × 881

(285 KB)

Ty Rezac (Talk | contribs)
Somalia = Chrome
19:42, May 6, 2013
1,479 × 881

(285 KB)

Ty Rezac (Talk | contribs)
Ivory Coast = Chrome
13:57, May 4, 2013
1,479 × 881

(285 KB)

Ty Rezac (Talk | contribs)
Comoros = FireFox
00:41, May 2, 2013
1,479 × 881

(285 KB)

Ty Rezac (Talk | contribs)
Mistake
20:00, May 1, 2013
1,479 × 881

(285 KB)

Ty Rezac (Talk | contribs)
May
14:19, April 28, 2013
1,479 × 881

(285 KB)

Ty Rezac (Talk | contribs)
Benin = FireFox
14:23, April 27, 2013
1,479 × 881

(286 KB)

Ty Rezac (Talk | contribs)
April
19:43, April 26, 2013
1,479 × 881

(286 KB)

Ty Rezac (Talk | contribs)
Laos = FireFox
19:41, April 24, 2013
1,479 × 881

(286 KB)

Ty Rezac (Talk | contribs)
Egypt = Chrome
19:41, April 22, 2013
1,479 × 881

(286 KB)

Ty Rezac (Talk | contribs)
April
14:52, April 21, 2013
1,479 × 881

(285 KB)

Ty Rezac (Talk | contribs)
Benin = FireFox
13:57, April 20, 2013
1,479 × 881

(285 KB)

Ty Rezac (Talk | contribs)
April
19:45, April 19, 2013
1,479 × 881

(285 KB)

Ty Rezac (Talk | contribs)
April
20:01, April 17, 2013
1,479 × 881

(285 KB)

Ty Rezac (Talk | contribs)
Laos = Chrome
15:42, April 14, 2013
1,479 × 881

(285 KB)

Ty Rezac (Talk | contribs)
Luxembourg = FireFox
20:19, April 11, 2013
1,479 × 881

(285 KB)

Ty Rezac (Talk | contribs)
Vanuatu = IE
22:00, April 9, 2013
1,479 × 881

(285 KB)

Ty Rezac (Talk | contribs)
April
09:27, April 8, 2013
1,479 × 881

(257 KB)

Ty Rezac (Talk | contribs)
Back from Florida
12:22, April 5, 2013
1,479 × 881

(278 KB)

Ty Rezac (Talk | contribs)
Luxembourg = IE
15:41, April 3, 2013
1,479 × 881

(278 KB)

Ty Rezac (Talk | contribs)
Seychelles = IE
14:45, April 1, 2013
1,479 × 881

(285 KB)

Ty Rezac (Talk | contribs)
April
14:41, March 30, 2013
1,479 × 881

(285 KB)

Ty Rezac (Talk | contribs)
Christmas Island = Opera
19:44, March 29, 2013
1,479 × 881

(291 KB)

Ty Rezac (Talk | contribs)
Chad = IE
20:16, March 28, 2013
1,479 × 881

(291 KB)

Ty Rezac (Talk | contribs)
Chad = FireFox
18:30, March 16, 2013
1,479 × 881

(291 KB)

Ty Rezac (Talk | contribs)
Mistake
14:47, March 16, 2013
1,479 × 881

(291 KB)

Ty Rezac (Talk | contribs)
Cook Islands = Iron
19:49, March 13, 2013
1,479 × 881

(280 KB)

Ty Rezac (Talk | contribs)
Turkmenistan = Chrome
21:17, March 7, 2013
1,479 × 881

(280 KB)

Ty Rezac (Talk | contribs)
Mistake
21:08, March 7, 2013
1,479 × 881

(280 KB)

Ty Rezac (Talk | contribs)
Somalia = Chrome
03:42, March 6, 2013
1,479 × 881

(280 KB)

Ty Rezac (Talk | contribs)
Reverted to version as of 20:59, March 3, 2013
22:10, March 4, 2013
1,479 × 881

(280 KB)

Ty Rezac (Talk | contribs)
Chad = FireFox.
20:59, March 3, 2013
1,479 × 881

(280 KB)

Ty Rezac (Talk | contribs)
Cook Islands = IE
15:23, March 2, 2013
1,479 × 881

(291 KB)

Ty Rezac (Talk | contribs)
Chad = IE
21:06, February 25, 2013
1,445 × 908

(273 KB)

Ty Rezac (Talk | contribs)
Equatorial Guinea = IE
(Latest |
Earliest
) View (newer 50 |
older 50
) (
20
|
50
|
100
|
250
|
500
)
Metadata