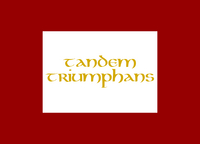 It was referred to "
The Forty-Five
", a Jacobite uprising in The Highlands. The Jacobite pretender, Charles Edward Stuart, employed the services of Roman Catholic Irish, Scottish and French mercenaries ready to fight for the return of the Catholic House of Stuart to England. After landing on the coast of the Highlands, Charles, or more commonly known as Bonnie Prince Charlie, marched south. Along the way he employed Catholic Scotsmen and their clans to fight for him. The Jacobite downfall began after the second siege of the castle Carlisle, in which Hannoverians (Kingdom of Great Britain) took the castle. Before the siege, Charles left the castle, against his own will, and left only 400 men to be crushed at the hands of the enemy. After that, Charles and the Jacobites managed to attain victory at Falkirk and Inverrary but after three successive losses at Fort William, Littleferry and their final defeat at Culloden, the Jacobites fell into decay. Then you must ask yourself, what if they hadn't lost at Carlisle? What if Charles had stayed with his troops and stopped the Great British in their tracks? This is the story of the return to a Stuart Britain.
An Overview
Shortly before the second Siege of Carlisle, Charles was met by a selection of his highest officers to debate a retreat from the castle. Charles protested the move, but after hours of debate, Charles accepted the retreat of two generals and 100 men back to Scotland. Soon after the remaining men approx 900 met with the Duke of Cumberland as he began his siege. The Dukes men numbered around and up to 1000. The Jacobites then held out for one week, and on the 18th of December, the retreating men arrived after hearing the call.
During the final assault by the Hanoverians armies, the Jacobites surrounded the enemy at the gates and captured or killed all of them.This victory allowed Charles and Jacobites to hold onto their castle, which was in Hanoverian territory, and push down farther into England.
After supporting major Catholic revolts in Northern England, Charles and an army of 2100 marched southwards, where at the St. Helens township he fought a titanic battle. It went on for two months and had over 5000 men fighting. Finally, the Jacobites won the battle, but were stalled by nearly a month. But after furious fighting, the whole of England was in shambles.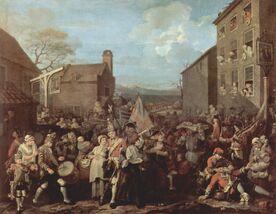 The constant attacks by Catholic revolutionaries and the continued push southwards made by Charles prompted the whole of London to turn to chaos. The king fled to America and the French sent ships to blockade any future shipments of supplies to the Hannoverians. On January 4th, 1747, Charles Edward Stuart entered
Buckingham, and one day later he received a peace agreement from Parliament. His final march to London was a joyous occasion for the Jacobites and Catholics, and on the 15th of March, Charles was crowned Charles III, King of Great Britain.