Fidel Castro is the Senior Democratic Senator from Cuba and the President pro tempore of the Senate, having served this position since 1969. Currently, he is the longest serving Senator in United States history, having served for 52 years since his election to the position in 1960. Combined with his House time from 1956 to 1960, he is the second longest serving member of the United States Congress, defeated only by Robert Byrd, although by one year. Castro has expressed that his ailing health may cause him to resign from office, but he has stated that he will remain senator until 2014 at the least.
A surgery is scheduled for the 85 year old man on May 2, 2012. This surgery is expected to cure him for now and allow him to "continue serving the people of Cuba, the Caribbean, and America," in his words.
History
Fidel Castro was born in 1927 in Havana, Cuba, to a wealthy farmer and his wife. He grew up noticing the poor people of Cuba, which was a territory at that time. He says in his autobiography, Mein Kampf: Cuban Version, that he has "always wanted to help the people that he saw, the poor, the needy, the disabled, the neglected.
After Cuba gained statehood in 1934, Castro was glad to see improvement in Cuba and some federal aid. Then after the outbreak of World War III, Castro once again saw Cuba falling to pieces due to rationing and other limits, especially in aid.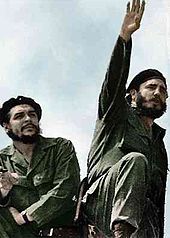 Then the Korean War started in Asia. Castro was drafted for the army and sent to fight the North Koreans. However, President Truman left office soon after the war started and he started blaming the Republicans. He blamed them for mistreatment of Cuba since the Americans acquired it, for the Great Depression, and for the Korean War.
After the outbreak of the Vietnam War, he was sent there, upon which he was promoted to Captain. Eventually, he was honorably discahrged following a severe bullet wound to his leg. After this, he returned to his home Cuba and decided that he had enough with the government.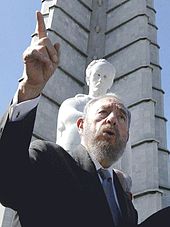 In 1956, he ran for representative for Cuba's second district after the incumbent Miguel Santiago resigned the position to become Cuba's Republican Senator. Castro won and held this position until 1960.
In 1960, he was elected as Cuba's first Democratic Senator something he was very proud of. Alongside President John F. Kennedy, he pushed forwards the FF-NASA Act and got it passed through the Senate.
In 1969, he was elected to President pro tempore of the Senate due to his nine years' service in the Senate. To this day he holds this position.
Later in 1970, President Robert F. Kennedy offered him the position of Secretary of Defense, which he declined.
In 1980, it was proposed that he should run for the Democratic nomination for President. He immediately declined stating that he was not to hold such a high position.
Today, Castro is Cuba's Democratic Senator, and the only one in its entire history. The current other Cuban Senator is Maro Rubio, a Republican.
Ad blocker interference detected!
Wikia is a free-to-use site that makes money from advertising. We have a modified experience for viewers using ad blockers

Wikia is not accessible if you've made further modifications. Remove the custom ad blocker rule(s) and the page will load as expected.