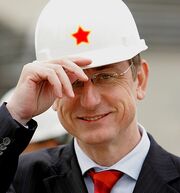 Ferenc Gyurcsány
(born June 4, 1961) is a
Hungarian
politician, and current Secretary General of the MSZMP (Hungarian Socialist Worker's Party). He took over the position in 2005, when the previous leader,
Gyula Horn
resigned because of failing health.
Gyurcsány began his career in politics as a Communist Youth (KISZ) leader in the early-1980s, then gradually moved up. He became a member of the Politbüro in the 1990s. He married Klára Dobrev, granddaughter of Antal Apró, a high-ranking Communist ex-statesman.