Ad blocker interference detected!
Wikia is a free-to-use site that makes money from advertising. We have a modified experience for viewers using ad blockers

Wikia is not accessible if you've made further modifications. Remove the custom ad blocker rule(s) and the page will load as expected.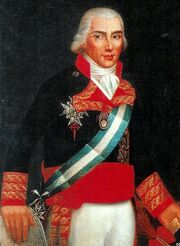 Don Federico Carlos Gravina y Nápoli
, (Palermo, Sicily, 1756 – Atlantic Ocean, 1805), was a Spanish Admiral during the American Revolution and Napoleonic Wars, who died an hero during the
Battle of Trafalgar
.
During the Battle of Trafalgar, Gravina had personally led an boarding party onto an frigate, and captured the ship, in which he rammed into another British man-of-war, sinking the two ships. The incident led to the death of Gravina and the boarding party, but will be remembered by the British, French, and Spanish as an brave man who died to protect what he loved.