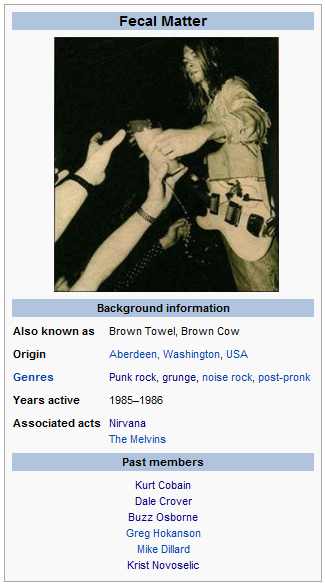 Fecal Matter was a short-lived post-pronk band from Aberdeen, Washington. It was formed by Kurt Cobain, who became famous as the frontman and guitarist of the grunge band, Nirvana. The band released one album called Illiteracy Will Prevail .
History
The band was formed in February 1985 and consisted of Cobain on guitar and vocals, Dale Crover on bass, and Greg Hokanson on drums. In December that year, Hokanson left the band. Later that month, Cobain and Crover went to the house of Cobain's aunt Mari Earle, in Seattle, with a large book of lyrics and recorded the album Illiteracy Will Prevail on a four-track. Cobain performed guitar and vocals, while Crover played bass guitar, and drums. In January 1986, Buzz Osborne joined on bass and Mike Dillard joined on drums. According to Michael Azerrad's Come as You Are: The Story of Nirvana, Cobain thought Osborne did not take the band seriously enough and refused to buy a bass guitar amplifier. In August 1986, Fecal Matter disbanded after the members didn't take the band seriously and went on to future projects.
After Fecal Matter disbanded, Cobain already had high hopes of starting a new band. Cobain was particularly proud of the album. To him, the album showed that he did have talent. He had wanted to start a band with acquaintance Krist Novoselic for some time. After having a good friendship with Novoselic during Fecal Matters existence, he agreed to form a band in mid-1986. That band would later be known as Nirvana.
Legacy
Allmusic described the band's noise as "experimentally weird, but interesting". The Rolling Stone has mixed reception of the band by saying that "The amateur noise makes somewhat of an annoyance" but added "A rather evolving experience".
Kurt Cobain over the years has despised the album, but called it "his root to music", Spank Thru, Annorexorcist, and Downer, were either re-recorded or usually performed during Nirvana concerts until Kurt's death in 1994.
Ad blocker interference detected!
Wikia is a free-to-use site that makes money from advertising. We have a modified experience for viewers using ad blockers

Wikia is not accessible if you've made further modifications. Remove the custom ad blocker rule(s) and the page will load as expected.