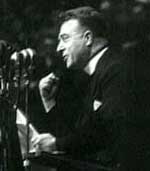 Charles Edward Coughlin was born in 1891 in Hamilton, Ontario, Canada. He was ordained in 1916 as a Roman Catholic priest before moving to Detroit, Michigan, USA in 1923.
He began delivering sermon on the radio in 1926. While originaly his broadcast were mostly religious in content, it took on an anti-semitic, anti-capitalistic and anti-communistic slant in the 1930s.
Pressure was applied to him by the Roman Catholic hierarchy to tone down his rethoric. When he refused, Detroit Bishop Michael Gallagher was asked to remove him but, being a supporter of Coughlin, he declined.
The matter stayed in limbo for a while but when he oppenly supported the America First Party, he was threatened with excomunication. Father Coughlin, followed by Bishop Gallagher and a few dozen priests left the Roman Catholic Church and founded their own denomination: the Apostolic Church of America.
After its takeover, the new regime used Father Coughlin as its official voice on the radio.
Ad blocker interference detected!
Wikia is a free-to-use site that makes money from advertising. We have a modified experience for viewers using ad blockers

Wikia is not accessible if you've made further modifications. Remove the custom ad blocker rule(s) and the page will load as expected.