Evgenigrad (Russ: Евгениград) is the second-largest city in Alaska, located in Evgenigrad-Krasnov Oblast, of which it is the capital. Evgenigrad, while slightly smaller than Kialgory, is the commercial and financial center of the country, home to the headquarters of the country's five largest companies, and is a major global trade and industrial hub. Nicknamed "the Heart of Alaska" (Сердце Аляски/Serdce Alyaski), Evgenigrad is the northern anchor of the Kialgory-Evgenigrad corridor, home to nearly ten million people.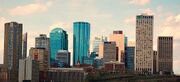 Evgenigrad is the wealthiest city in Alaska with a population over 100,000 and enjoys relatively low crime rates as compared to many other major urban population centers. The city is renowned for clean energy, lack of vehicle emissions, and advanced technology developed in the mid-1990's during a city-wide renaissance to modernize the city and make it more attractive for foreign businesses. Nevertheless, it is still not considered a "world city" like its southern neighbor, Kialgory, despite being more affluent, safer and modern. Evgenigrad is home to an entrenched manufacturing base, is home to regional offices for Yukoil, Petrol-6 and American oil companies Texoil, Shell, and Petrocon, and is also the headquarters of Alaska telecom company Atlas.
Evgenigrad proper has a population of 935,000 people, about 80,000 less people than Kialgory, and the Evgenigrad-Krasnov metropolitan region is home to about 2,750,000 people.
History
Early Settlement
Alaskan War
Industrial Hub and Oil Boom
Latter 20th Century and Present Day
In the 1970's, Kialgory's proximity to the US border and the resulting commerce that that location encouraged eventually resulted in Kialgory eclipsing Evgenigrad as the largest city in Alaska. Although Evgenigrad hosted the 1976 World Cup Final, the government still selected Kialgory as its victorious bid city for the 1982 Olympics, partially due to its proximity to the United States.
In the 1980's, due to a drop in demand for manufactured goods during the ongoing economic slowdown in many of Alaska's trading partners, Evgenigrad's leaders - in particular Mayor Yuri Saragev - begin establishing Evgenigrad as a corporate city, and started changing its local tax laws to encourage financial growth as opposed to industrial. As a result, much of the industrial culture that had existed in the city moved either to its suburbs, such as Krasnov, or south towards the middle of the Kialgory-Evgenigrad Corridor. The city underwent a fifteen-year renaissance of modernization, a new building boom and despite a dropoff in population during the late 1980's, there was a resurgent spike in highly-skilled white collar workers during the 1990's during the Alaskan tech boom and the revival of the financial services industry. During this time period, both Yukoil and Petrol-6 moved their corporate headquarters from Aleksandrgrad to Evgenigrad, in 1994 and 1997 respectively, due to the perceived stabiliy in the interior as opposed to the chaotic economic and political climate in coastal cities in the post-Revolution of 1991 Alaska. Evgenigrad also did not suffer the same strikes and upheavals experienced in Kialgory and Mikhailgrad due to the insulated and comfortable economic nature of its newer residents in the 1990's.
Demographics
Culture
Evgenigrad is regarded as the cultural hub of Alaska, which is why it is the center of the small Alaskan film industry, home to the University of Evgenigrad and a center for writers, artists and musicians. Evgenigrad is the home to Alaska Fashion Week, a weeklong fashion exhibition similar to ones in Paris, London, New York and Rome, and thus is the heart of Alaska's modelling and advertising industry as well.
The nightlife scene in Evgenigrad is noted as a particularly excellent one, and although not quite as diverse or on the same scale as Kialgory's, Evgenigrad has typically offered restaurants, entertainment venues and bars and clubs catering to a wealthier crowd. As such, Evgenigrad was rated as "the Best Restaurant City in North America" and has been referred to on occasion as "the Arctic Paris."
Economics
Infrastructure and Government
Ad blocker interference detected!
Wikia is a free-to-use site that makes money from advertising. We have a modified experience for viewers using ad blockers

Wikia is not accessible if you've made further modifications. Remove the custom ad blocker rule(s) and the page will load as expected.