The European Council is committee of nations (OTL NATO or the EU) to help protect Europe from war and to ensure national sovereignty for its member nations. The main goal of the European Council is to protect and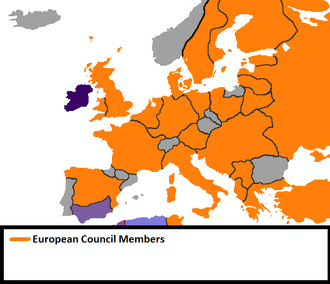 promote peace throughout Europe.
In order to join the EC an invitation must go out and then be accepted.
If a nation is at war they may not join the Council until the war is resolved.
The EC will elect a member state every two (2) years to be the voice of the EC, starting with Wales since they first proposed the idea.

When the election cycle arrives after 2 years, the previous Head of Council will not be allowed to vote unless there is a tie.
Any past Head of Council may run again, but not consecutively. EX. Wales can not run in the next election. However, in the election after that it can. This ensures equality to in order to protect everyone's interests.

All member nations can not wage war with each other unless the grievances between those nations are extreme, in which case the issue will be presented to the Council, then voted on.
Only European nations are permitted to enter the EC unless given a special invitation.
Any nation a part of the European Council will be protect from non-EC aggression. If a non-EC state declares war or invades a EC state, then they are subject to the full wrath of the entire EC.
A nation in the EC may attack any other non-member nation, but they are forbidden to call on the Council for aid unless attacked or severely provoked.
There will be free trade amongst member nations unless otherwise voted on by the council.
This Council reserves the right to ban nations or remove nations if there is a severe infringement upon the rules. Any potential ban will be voted on by the Council.
THIS DOCUMENT IS A PRELIMINARY DOCUMENT AND IS SUBJECT TO CHANGE. FIRST REVIEWED IN 1915.
CHARTERED STATES
These are the nations whom accepted the proposal early on and can not be removed unless there is a severe misuse of power.
The Kingdom of Wales- State that first proposed the notion.
France- first accepted nation and aid in drafting EC legislation.
MEMBER STATES
-SIGNATORY MEMBERS-
Denmark
Britain
Russia
Austria
Finland
Castille
Flanders
Poland
Hungary
Greece
NOMINATED FOR EVICTION
Italy, for threatening an EC member(2) actually with war. Italy is attempting to destroy the alliance that all of Europe worked s hard to achieve. All over a nation whom they have no interest in.
INVITED AWAITING CONFIRMATION
Ad blocker interference detected!
Wikia is a free-to-use site that makes money from advertising. We have a modified experience for viewers using ad blockers

Wikia is not accessible if you've made further modifications. Remove the custom ad blocker rule(s) and the page will load as expected.