In Spain, the sun never sets... but that's not true in this article.
This Triunfa, España!  article is a stub. The creator or creators of this timeline have more work to do before this article can be complete. You are welcome to give suggestions in the page's talkpage.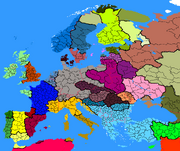 Europe is a continent located in the northern hemisphere of the planet. It's the second smallest (10,180,000 km²) and second most populated (slightly over 1,000,000,000) continent in the world.
Ad blocker interference detected!
Wikia is a free-to-use site that makes money from advertising. We have a modified experience for viewers using ad blockers

Wikia is not accessible if you've made further modifications. Remove the custom ad blocker rule(s) and the page will load as expected.