In Spain, the sun never sets... but that's not true in this article.
This Triunfa, España!  article is a stub. The creator or creators of this timeline have more work to do before this article can be complete. You are welcome to give suggestions in the page's talkpage.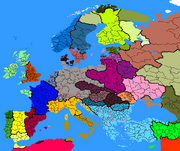 Europe is a continent located in the northern hemisphere of the planet. It's the second smallest (10,180,000 km²) and second most populated (slightly over one billion) continent in the world.